Official Site.
About the Official site.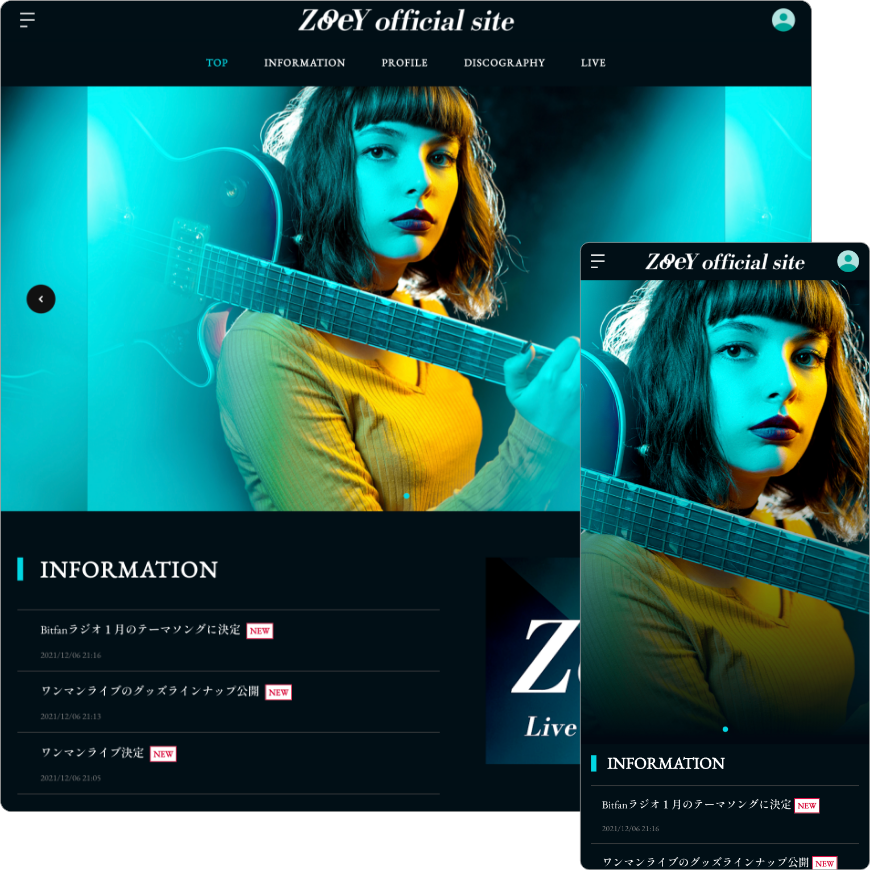 The first step of activity as creator. We are supporting your fan business from now on.
Owners who opened official sites

By creating an official site in Bitfan you can also...
Fanclub.

Functions that are essential for expanding fan community are available here, such as group chatting, live streaming only for paid members etc.

Store.

You can sell both the original goods and digital contents by opening an online shop of your own.

Ticket.

You can sell e-tickets here. Functions such as ticket collecting in a non-contact way and prevention of illegal resell are available here.

Live Streaming.

You can do a live streaming via website or via App anytime you want. Audio live streaming function as well as charge function and archive function are also available.
Enter the mail address and password to create your Bitfan account.
And then just access the URL sent to you by the confirmation mail.

Press the start button, enter the name of site/URL/Genre and your site will be set up.

Make your favorite site by change the colors or fonts in Design Edition.

For those who want to post videos only for members or to have a group chat.

For those who wants to sell their goods or works.

For those who wants to hold events.

For those who wants to set up a live streaming.
Let's get started
Get started with Bitfan
FAQ
FAQs
Bitfanの各機能の収益還元率は以下となります。
・ファンクラブ会費/ハートつきコメント
Webブラウザ決済[クレジットカード/キャリア払い/あと払い(ペイディ)]:
決済金額の80%
iOS/Androidアプリ決済:
決済金額の50%
(アプリ内課金の手数料30%が控除されます)
※海外ユーザーのアプリ売上の還元率に関してはこちらをご確認ください。
・ストア売上
商品代金と送料の合計金額の95%
・チケット売上(Bitfan Pass)
リアルイベントの場合:
チケット料金の95.2%
ライブ配信の場合:
チケット料金の92%
※ライブ配信チケットは購入する際にシステム手数料として別途220円(税込)がかかります。
Bitfanオーナー利用規約 第3条もあわせてご確認ください。
Bitfan IDは、本サービスを利用するために必要なアカウントです。
サイトやストアを開設したい方も、ファンクラブの有料登録をしたい方も、Bitfan IDの登録が必要です。
登録には外部SNSアカウント、または任意のメールアドレスとパスワードが必要です。
同じSNSアカウントもしくはメールアドレス/パスワードでログインしていただくことで、別の端末からも同一のアカウントをご利用いただけます。
(携帯電話を機種変更した際も新規登録は不要です)
Bitfanでサイト/ストアを開設している人のことです。
本サービスは初期費用や月額利用料なしに、誰でも自分のサイトやストアを作れます。
Bitfan IDを取得後、マイページよりすぐに作成が可能です。
The following environment is recommended when using the Bitfan website and application.
If you view this site in an environment other than the target one, the display may be different from the original one.
※Please note that the recommended environment is subject to change without notice.

■ Website
PC
・ Windows
 Latest version of Microsoft Edge / Google Chrome
・ Mac(Macintosh)
 Latest version of Safari / Google Chrome
Mobile phone
・ iOS
 OS:iOS 14.0 or higher
 Browser:Safari
・ Android
 OS:Android 7.0 or higher
 Browser:Latest version of Google Chrome
※Tablet devices are not supported.
※This site uses JavaScript / Cookies. The site will not work if JavaScript / Cookies is disabled in your browser, so please enable it before using the site.
※Safari updates are installed as part of macOS updates, so please update your OS to the latest version.
■ Bitfan App
・ iOS
 iOS 15.0 or higher
・ Android
 Android 8.0 or higher
■ Bitfan Pass App
・ iOS
 iOS 14.0 or higher
・ Android
 Android 7.0 or higher
ファンクラブの有料会員登録をするには、まずBitfan IDの取得(無料)が必要です。
こちらよりご登録をお願いいたします。
Bitfan IDを取得後、ログインした状態で各サイトの[会員登録する]ボタンより有料会員登録ができます。

詳しくはBitfanガイド「ファンクラブに入会するには」をご参照ください。
If you want to receive push notifications
about the latest news from artists
GET Bitfan APP
Download Bitfan App